Advanced automation at your fingertips.
LightningMobile is a mobile application designed to secure high-demand items.
Join the Waitlist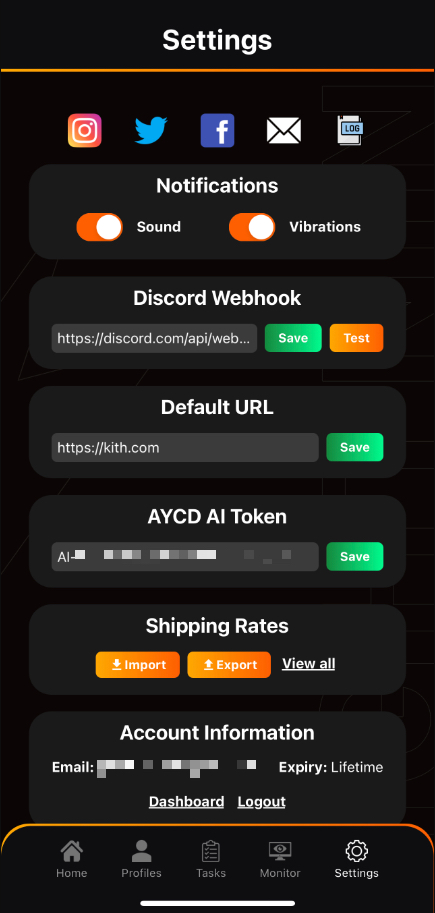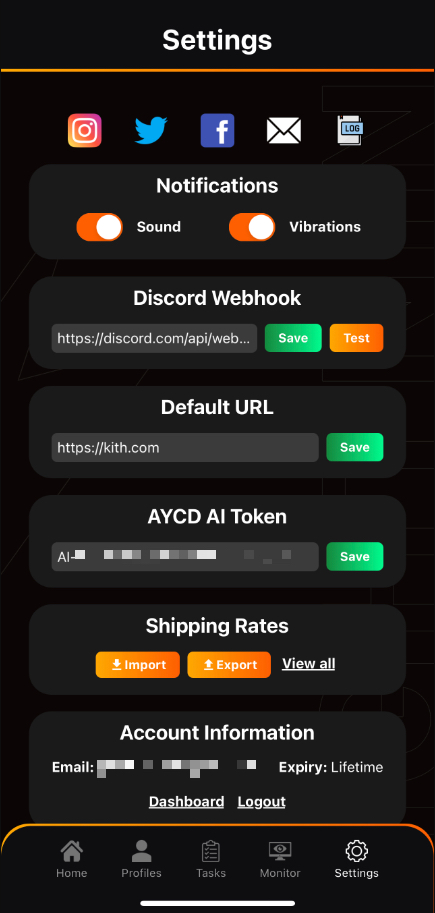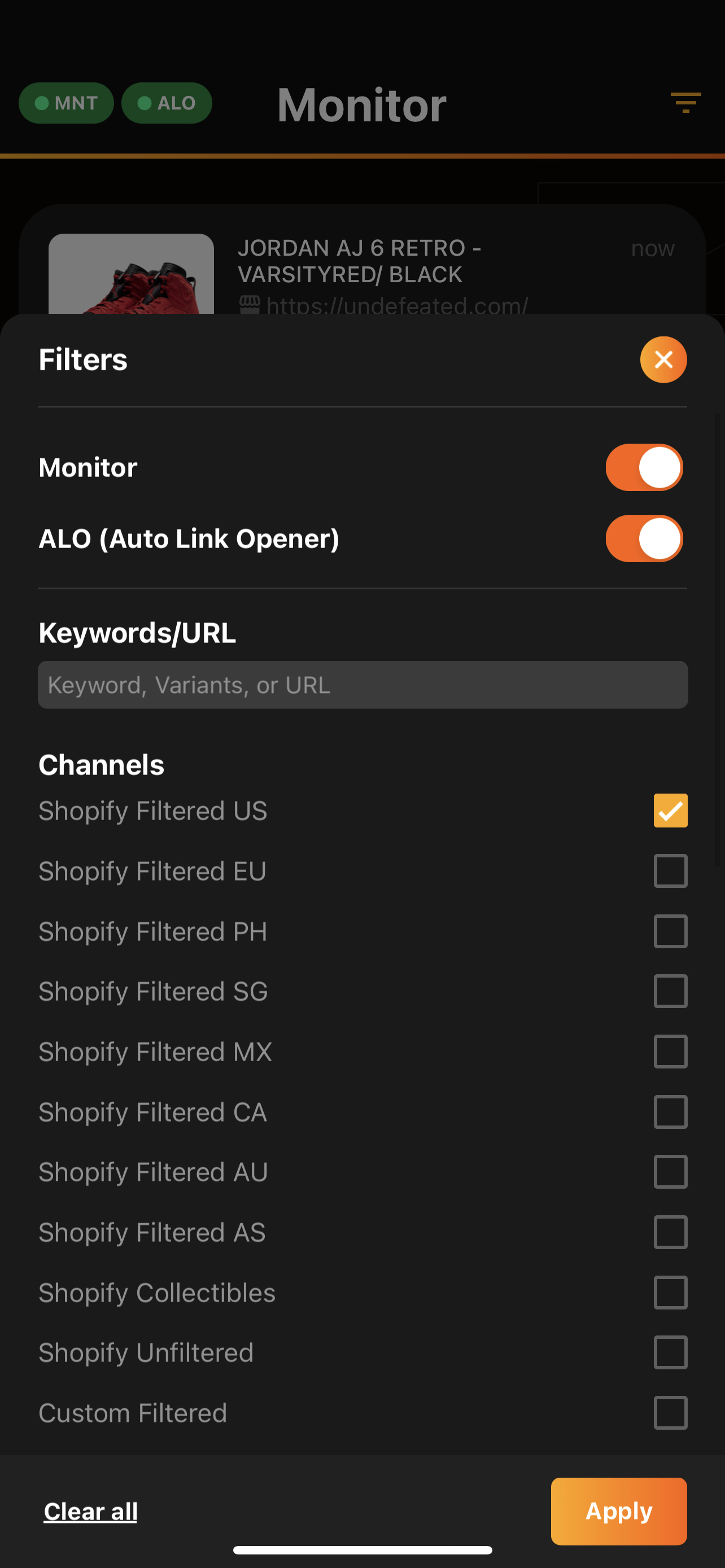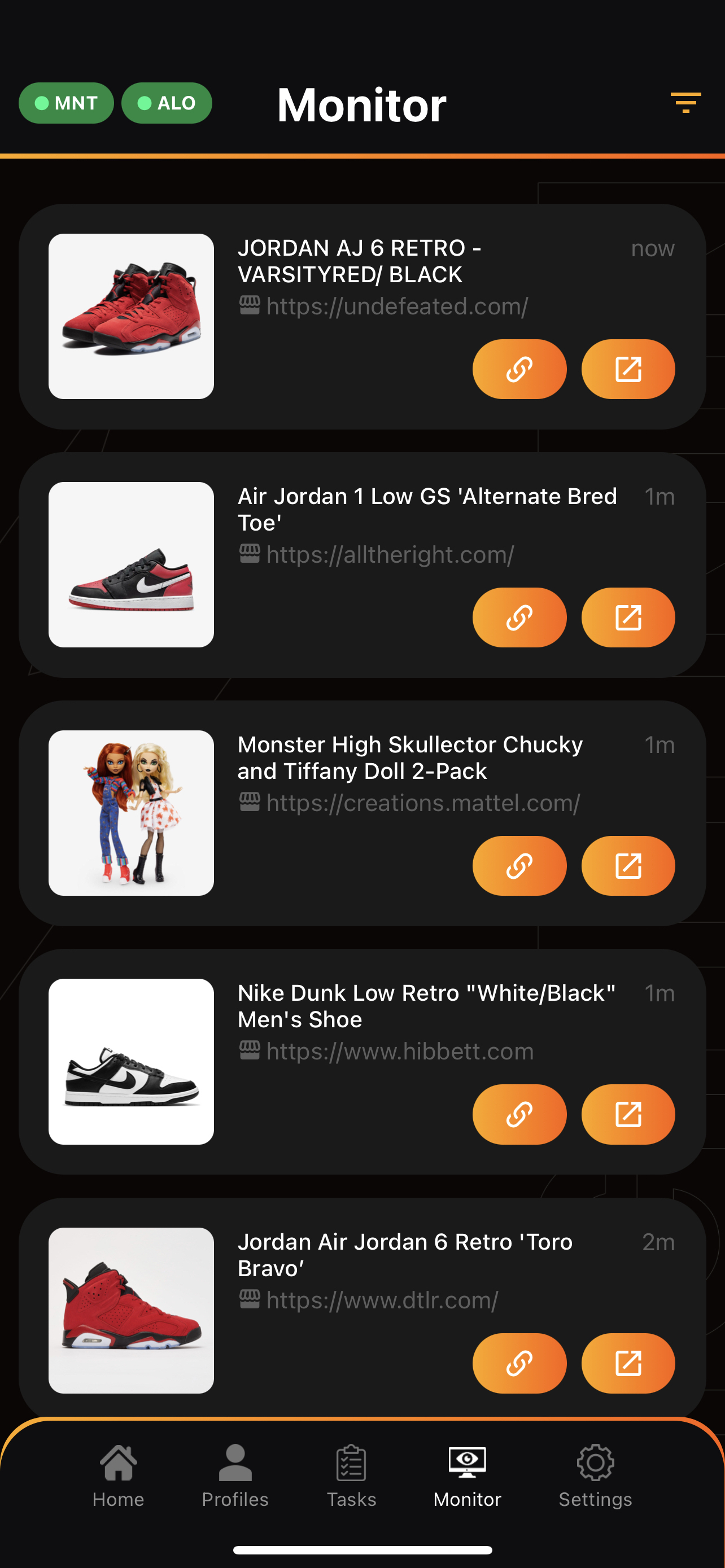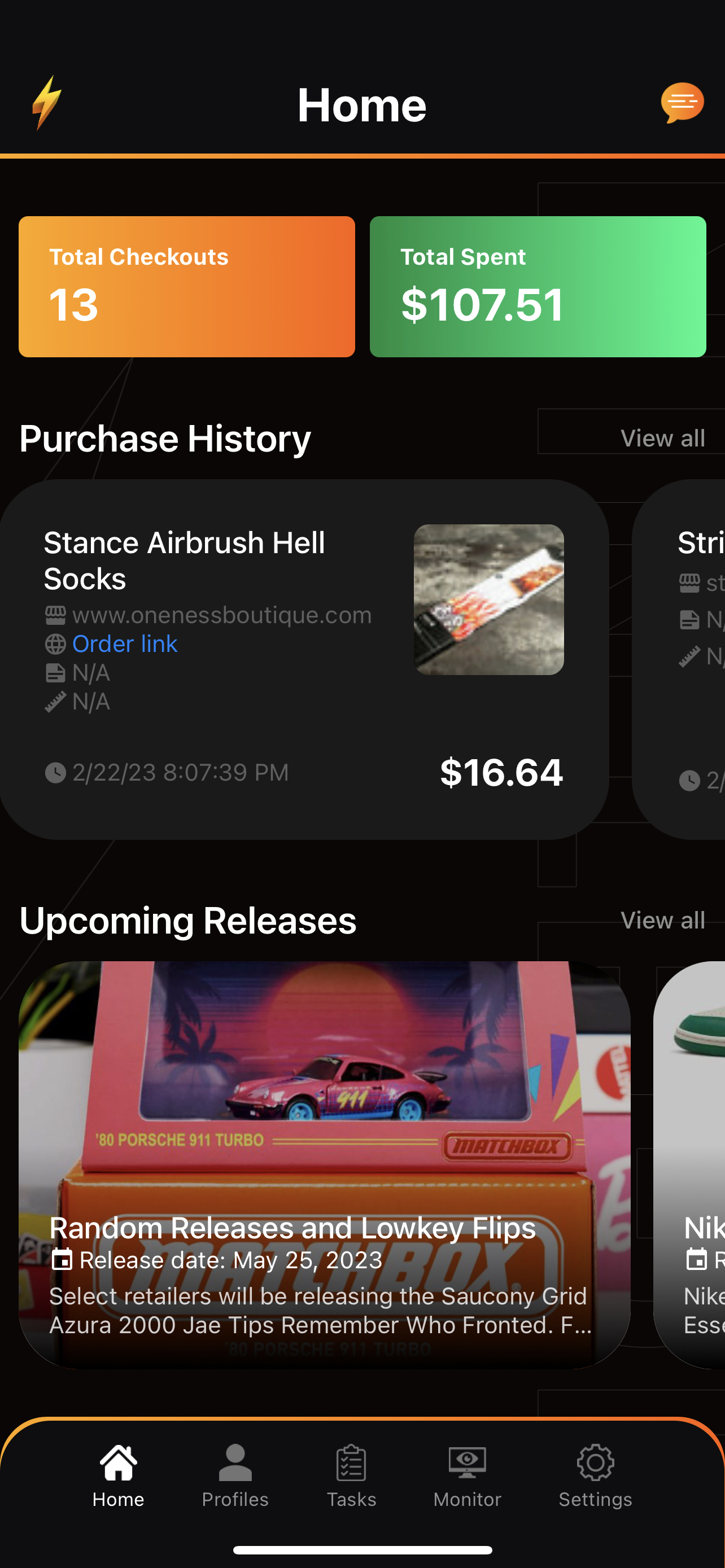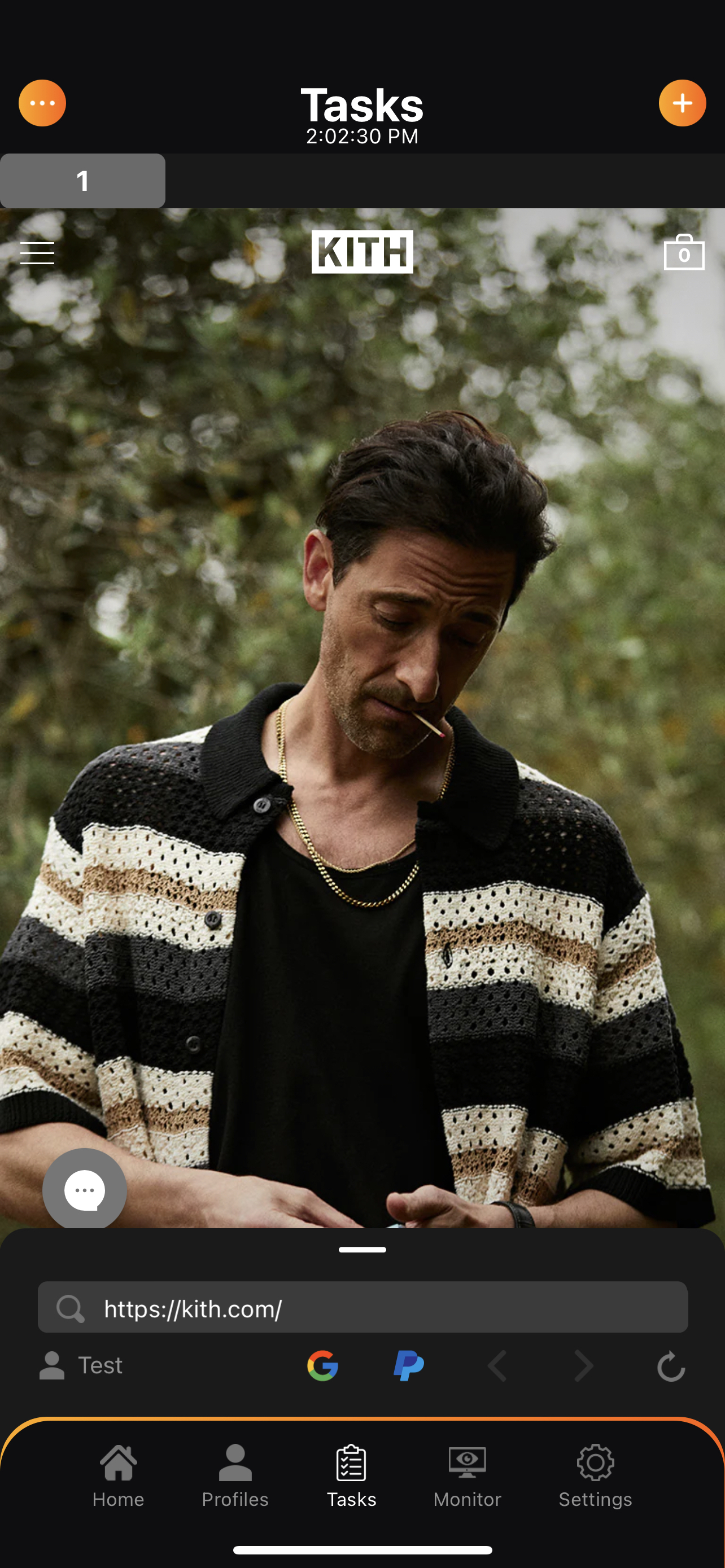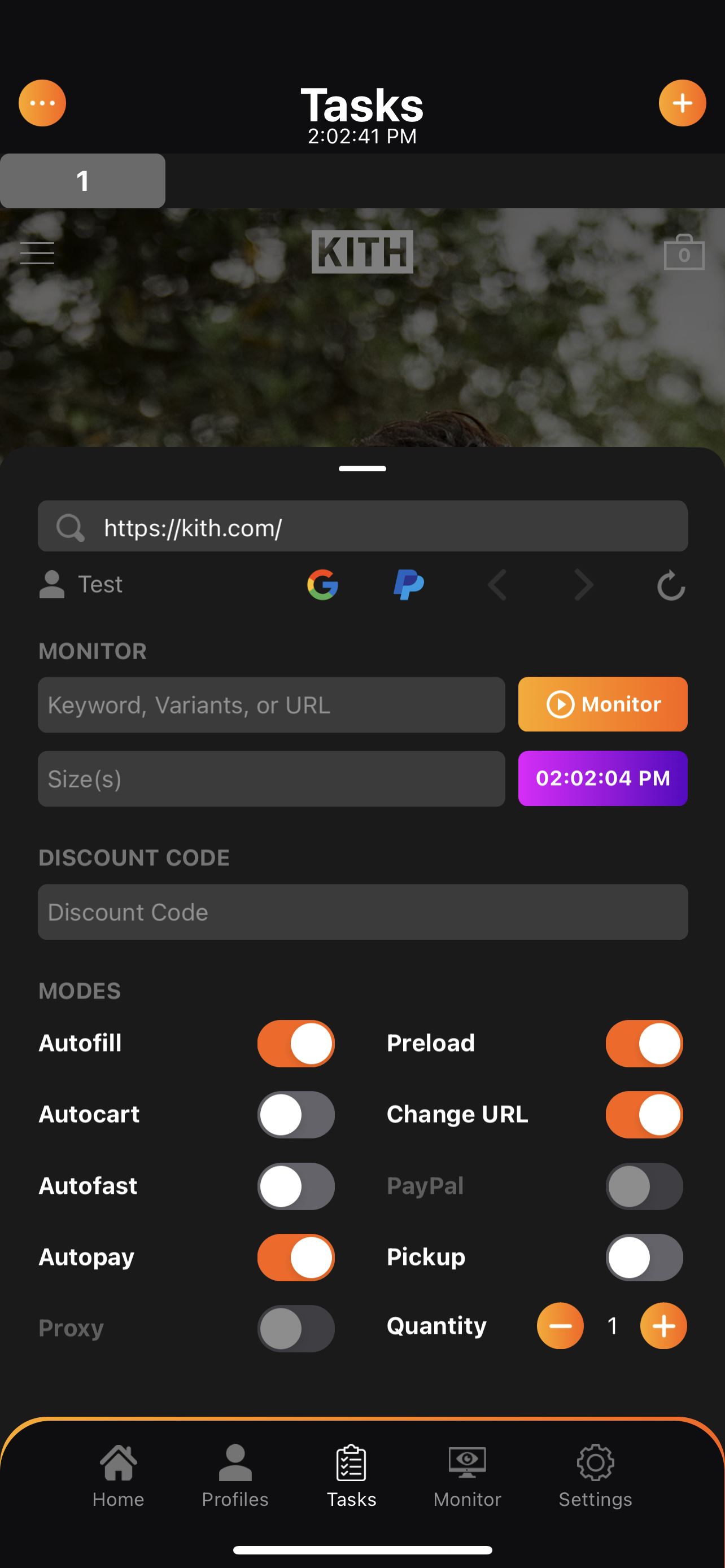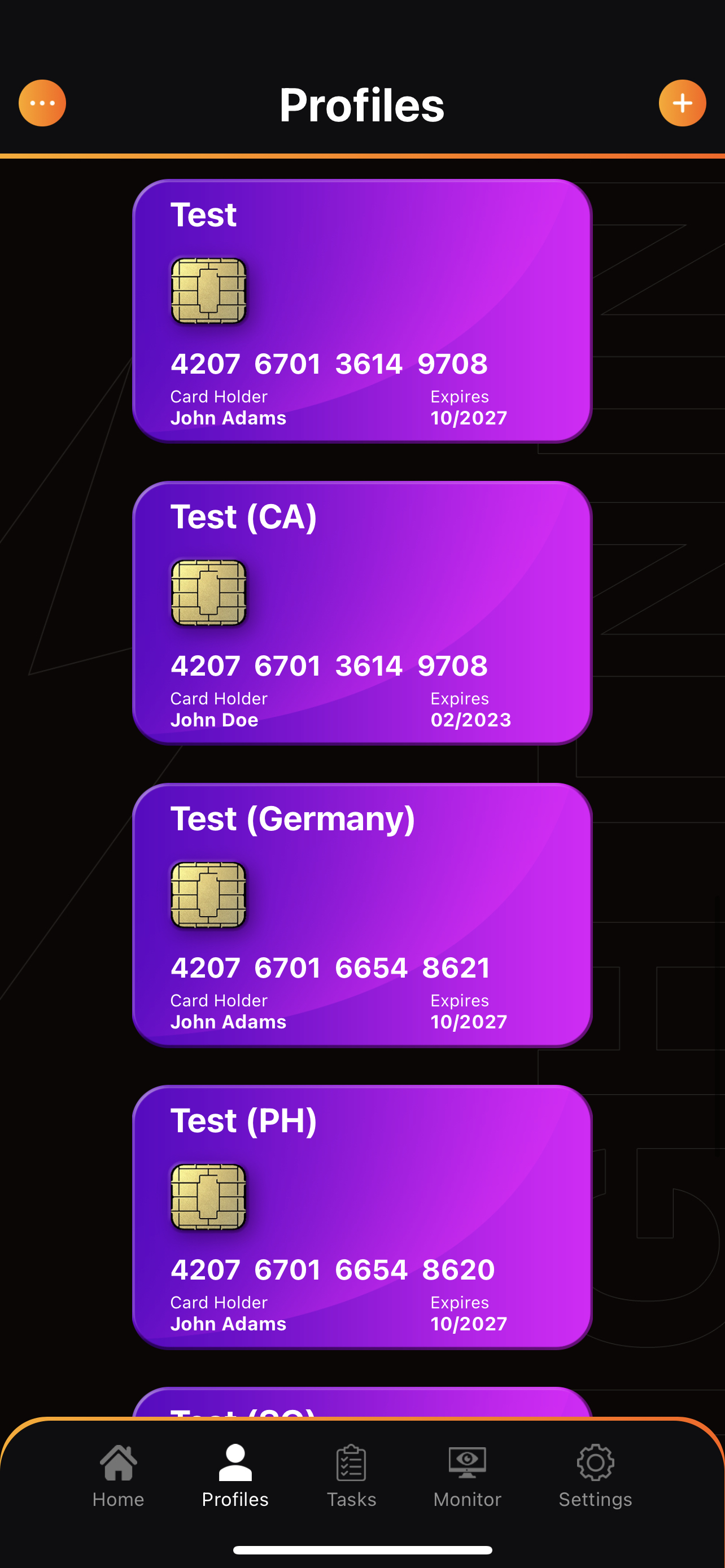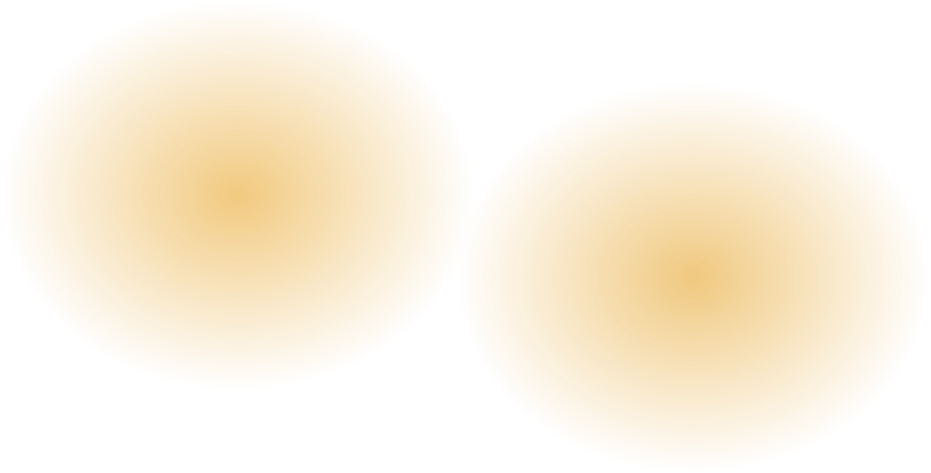 Convenience
Anytime, Anywhere.
LightningMobile keeps you covered on the go, just like our LightningATC (Desktop) product, ensuring convenience without being tied to your computer.
Optimized
Built for Success.
LightningMobile offers intuitive design, letting users customize checkout with multiple modes, enabling quick and easy checkouts on any site.
Profiles
Seamless Profile Management.
Our profile layout enables swift profile creation and editing by gathering ample information for seamless automation from start to finish.
Monitor Feed
Never Miss A Release.
Fastest monitor feed catches every release/restock. Personalize keyword string, enable ALO Sessions for synced products, and achieve success.
Performance
The Fastest Mobile App.
Toggle modes ensure checkout control. LightningMobile provides page monitors and shipping rates for fastest drop/restock checkouts.
SPECIAL FEATURES
Lightning maximizes user success by ensuring effortless automation.
Dashboard
Homepage analytics tracks checkouts and spending. Logs purchase history with details. Upcoming Release section for item recommendations.
Slide-up Option
Users can rapidly switch profiles, change modes, run page monitors, apply discount codes, and modify quantities with our slide-up option.
Profile Management
Create unlimited profiles, add Discord information, social media handles, and more for personalized data customization.
Custom Settings
Lightning empowers users with shipping rate integration, Discord webhook logging, default URL settings, and AYCD AI support for captcha solving.
Monitor Feed
Filter multiple channels for various items. Personalize keyword strings with sets and links to catch releases/restocks anytime. ALO grants instant access to secure checkouts.
Mobile Alerts
Get push notifications on your phone for crucial updates on upcoming releases and restocks, maximizing your opportunities.
Multi-Instancing
No more additional devices needed. Our mobile application allows up to (10) tabs which work independently as separate instances to allow multiple checkouts.
Premium Perks
Upcoming reminders, daily schedule, weekly and monthly calendars, important alerts and giveaways.
Pop-up Settings
Our one of a kind pop-up settings allow users to switch profiles, change modes, customize delays, add quantities and discount codes within seconds.
Actions
Whether it is a bot restock or a product releasing, Actions allow users to customize checkouts for any site. Say goodbye to unsupported sites.
Profile Management
Create unlimited profiles with the ability to add personalized information such as Discord, Social Media handles, Price Max, and much more.
Custom Settings
Lightning gives users the ability to add shipping rates, use third-party captchas solvers, blacklist sites, and receive mobile notifications via Pushover.
Global Monitors
With the ability to connect to your Discord channels, monitor specific products all the time. Lightning ensures you never miss a restock.
Auto Link Opener
Using this feature, our monitor will detect your keywords and open the link allowing you to checkout at the speed of light.
Link Appender
Password building during bot restocks to maximize success when restocks occur whether it is on Social Media or within a Discord Server.
Text Tools
Multi-layered base64, binary decoding, and more tools are available within our monitors page to use during bot restocks.
SUPPORTED SITES
Supporting 100s of sites, users will never miss another drop.
Lightning covers everything including Shopify, Stripe, Supreme, Funko, Finishline/JD Sports, Snipes, Hibbett, Big Cartel, Big Commerce, Walmart, Target, Amazon, Best Buy, Urban Outfitters, Razer, Zalando, Google Forms & more. We are adding sites every step of the way.
USER TESTIMONIALS
Lightning continues to prove itself as a premier autocheckout software. Witness our user's success.

I have had a positive experience with LightningMobile. The checkout process is super fast, which makes purchasing items a breeze. While I already enjoyed using Lightning ATC, I found LightningMobile to be even better.

Very helpful app for folks on the go. The ALO feature is spot on. I've copper multiple pairs using it with very short queue times. Orders stick too. The dashboard is helpful and tasks are easy to set up and use.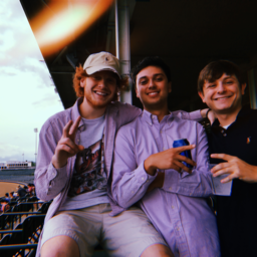 One of the best mobile apps for copping sneakers and other things. Fast automation and easy to use. Recommended if you are on the go!

The people behind LightningATC have truly created the mobile app experience by copping hard to get items. I've used LightningATC in the past and had success, this is another option that I have been searching and waiting for within the sneaker botting community.

An excellent product and glad it was made for iOS, works pretty well and shares lots of similarities to the extension. Looking forward to seeing how much more it improves.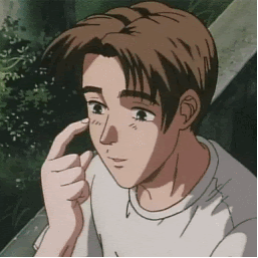 Been with LightningATC since the beginning and now it's mobile!! It's easy to use and powerful. The staff is top notch and always helpful. The Discord group is always positive and never toxic.

LightningMobile is a game-changing product from the Lightning team. LightningMobile brings all the power, tools, and resources from the desktop edition to your iPhone!

Lightning is a great resource. Not only do they provide specific tools that are easy to use, they are cost effective! They also provide a discord with monitors and the support team is awesome at helping with questions or issues.

I have been using Lightning Mobile for quite some time now, and I must say it has become an indispensable tool for me when it comes to copping limited items while on the go.
FREQUENTLY ASKED QUESTIONS
Have more questions?
Learn more about Lightning in the FAQ dropdowns below.
How much is Lightning?
LightningMobile initially costs $60 with a $10 monthly renewal fee.
How do I purchase Lightning?
Lightning is only available to purchase through our waitlist system to keep the product exclusive. You can follow us on our social media to receive information on upcoming restocks as well.
What sites does Lightning support?
Lightning supports Shopify, Supreme, Stripe, PayPal, Funko, Target, Walmart, Best Buy, Amazon, Gamestop and many more.
How does this differ from other apps?
Lightning is equipped with potent functionalities to offer unparalleled support during your automated checkout procedure.
What operating systems are supported?
As of now, we exclusively support iOS, with plans to include Android in the near future.
Do you offer groupbuys?
We are currently limited to group sales but recommend you to contact us through social media or submit an email below in order to check the availability.